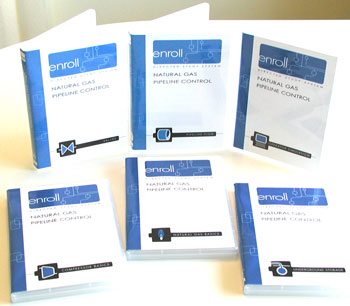 ENROLL - Natural Gas Pipeline Control
Introducing the latest training system from Gilmour Educational Media. The Enroll series uses a hands-on approach to provide an effective educational experience. Gilmour Educational Media brings together extensive pipeline engineering experience and educational research. The result is a package that puts trainees in the center of the learning experience. Click here for a demonstration.

ENROLL Directed Study System allows you to assemble a training package right for your needs and gives you the option to add more training modules as needed! Install a single topic area, or a full comprehensive training solution...you decide!

Tutorials are presented in an easy-to-use interface that gives you complete access to all topics and reference materials. You will be guided by audio narration, interactive screens, and colorful displays. Switch between metric and old English units at the click of a button!

Here are our currently available modules:


Gas Production | Gas Reservoirs | Overview of Pipeline Flow | Compression Basics | Valve Overview | Control Room Overview | Units | Heating Value | Hazards
---

Pressure Profile | Friction Factor | Relative Roughness | Flow Formulas | Z-Factor | Pressure | Pipe Length | Pipe Diameter | Gas Temperature | Steady-State Operation | Transient Operation | Pack and Draft
---

Valve Uses | Valve Types | MAOP | Code of Federal Regulations | Pressure Limiting Stations | Line Rupture Control | Control Room | SCADA Control Elements | Opening and Closing Valves | Valve Operation
---

Compressor Equipment | Compressor Stations | Reciprocating Compressors | Centrifugal Compressors | Drivers | Centrifugal and Reciprocating Maps | Compressor Operation | Surge-Line and Stonewall | Cold and Hot Starts | Unloading Steps | Station and Pressure Setpoint Control | Starting/Shutting Down a Compressor |
---

Seasonal Demand | Gas Reservoirs | Gas Metering | Control Valves | Dehydrators | Wellhead Structures | Storage Pressure | Gas Withdrawal and Injection | Storage Capacity | Compression
---


This simulator runs Operators through 45 different operation scenarios involving underground storage,valves,compressor stations,and tap deliveries. This training tool uses a transient model to simulate a 200 mile pipeline with compressors, valves, underground storage, and delivery taps.